产品中心
 

UV Sterilizer and Ozone

MT-ET, MT-FD and MT-FC Series
l Potable and high purity water applications
l 304 Stainless Steel, electropolished and passivated inside and out, 316 Stainless Steel is optional.
l Dual heads may be removed and rotated for versatility during installation
l Retainer Cap for effortless lamp change
l Fused quartz sleeve insure optimum lamp output at normal potable water temperature
l Removable flanged head for easy disassembly for concerned models .
l lamp operation indicator, elapsed time indicator.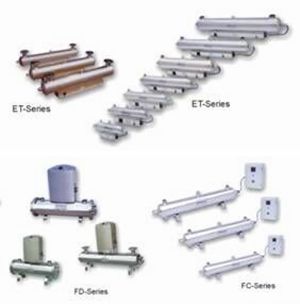 Product Code

FLOW RATE

CONNECTION BSP

Quartz Sleeve

Length (mm)

LAMP

NO.

MT-ET-2

MT-FC-2

2GPM/450LPH

1/2" BSP

400

T514

MT-ET-3

MT-FC-3

3GPM/680LPH

1/2" BSP

400

T515

MT-ET-6

MT-FC-6

6GPM/1360LPH

3/4" BSP

530

T521

MT-ET-8

MT-FC-8

8GPM/1814LPH

3/4" BSP

680

T529

MT-ET-12

MT-FC-12

12GPM/2720LPH

1" BSP

910

T540

MT-ET-15

MT-FC-15

15GPM/3400LPH

1" BSP

910

T565

MT-ET-20

MT-FC-20

20GPM/4536LPH

11/2" BSP

910

T565

MT-ET-24

MT-FC-24

24GPM/5443LPH

11/2"BSP

910

T680

MT-ET-35

MT-FC-35

35GPM/7938LPH

2"BSP

1205

T6100

MT-ET-45

MT-FC-45

45GPM/10200LPH

2"BSP

1205

T6120

MT-ET-70

MT-FC-70

70GPM/15876LPH

3"BSP

1630

T6150

MT-FD-90




90GPM/20412LPH

3" Flanged

1205

T6120

MT-FD-135




135GPM/30618LPH

31/2" Flanged

1630

T6150