产品中心
 

Flow Meters

KF700 SERIES ELECTROMAGNETIC FLOWMETER

MT-KF700 electromagnetic flow meter is an inductive apparatus to measure the flow volume of electric medium in the tube. The flow meter composes of sensor and converter, the flow meter design is adopted of SCM built-in technology to realize digital inciting magnetism the SCM connects CAN bus-mastering in the electromagnetic flow meter at the same to time. The electromagnetic flow meter can not only be read straightly but also output 4—20MA current signal for purpose of memory, adjustment and control. The flow meter is extensively used in industry technology and administration department such as chemical industry, environmental protection, metallurgy, medicine, paper making and water supply etc.

FUNCTIONAL CHARACTERISTICS

• The structure of flow meter is simple, function is reliable because there are no transmission parts, the working lifetime is long

• There are no block and cut-off parts, so the phenomenon of pres­sure loss and liquid block is not existed

• There is no mechanical inertia, fast response, excellent stability. It can be applied on automatic inspection adjustment and program process system.

• The preciseness of measure is free of physical data influence of medium varieties, temperature, viscidity, density and pressure etc

• The different configurations of both PTFE or rubber lining and electrical poles HC.HB, 316L, Tl etc can satisfy different medium requirements

• There are two models: integration and separation

• High definition LCD displayer

APPARATUS SELECTION

In the normal industry application, it is better to set the measured medium speed as 2~4m/s, under the special situation, the minimum speed should be more than 0.2mIs and maximum speed less than 8mls, if there are solid granules in liquid, the usual speed should be less than 3m/s for purpose to avoid the over-attrition between lining and electrical poles, for viscid liquid, the speed can choose as 2m/s, the fast flow speed makes for the automatic elimination of obstructive substances glued on poles, therefore improve the inspection's preciseness.



TECHNICAL DATA
• Gauge preciseness: pipe style 0.5 grade,1.0grade;insert style 2.5 grade
• Measure medium: two kinds of flowing substances: all of liquids and liquid-solids whose electric conductance ratio is less than 5US/CM.
• Flow speed range:0.3~12m/s
• Working pressure:0.6~4.0 MPa (According to the connection size)
• Environmental temperature:-10°C~ +50°C
• Medium temperature:PTFE lining≦150°C,rubber lining≦65°C
• Anit-explosion signal:Exd IIBT4
• Electromagnetic interference:<400A/m
• Shell protection: integration style:IP65;separation style: sensor IP68, Converter IP65
• Output signal: 4~20m, loading resistanceO~750Q
• Transmission output; RS485 or CAN bus-line
• Electrical connection; M20X1.5 female thread, 010 cord hole
• Electrical power voltage: 220±10%VACS 24VDC
• Maximum power consumption:≦10VA

DN

Minimum flow

volume selection

Usual full range flow volume selection ( m3/h )

10

0.1

0.16, 0.2, 0.25, 0.3, 0.4,0.5,0.6,0.8,1.0,1.2,1.6,2.0,2.5

15

0.2

0.4,0.5,0.6,0.8,1.0,1.2,1.6,2.0,2.5,3.0,4.0,5.0,6.0

20

0.35

0.6,0.8,1.0,1.2,1.6,2.0,2.5,3.0,4.0,5.0,6.0,8.0,10.0,12.0

25

0.55

1.0,1.2,1.6,2.0,2.5,3.0,4.0,5.0,6.0,8.0,10.0,12.0,14.0,16.0

32

1

1.6,2.0,2.5,3.0,4.0,5.0,6.0,8.0,10.0,12.16,20,25

40

1.5

2.5, 3.0, 4.0, 5.0, 6.0, 8.0,10.0,12,16,20,25,30,40

50

2.5

4.0, 5.0, 6.0, 8.0, 10, 12,16,20,25,30,40,50,60,70

65

4

6.0,8.0,10,12,16,20,25,30,40,50,60,80,100,120

80

5.5

10,12,16,20,25,30,40,50,60,80,100,120,160

100

8.5

16,20,25,30,40,50,60,80,100,120,160,200,250

125

14

25,30,40,50,60,80,100,120,160,200,250,300,400

150

20

40,50,60,80,100,120,160,200,250,300,400,500,600

200

35

60,80,100,120,160,200,250,300,400,500,600,800,1000

250

55

100,120,160,200,250,300,400,500,600,800,1000,1200,1600

300

80

160,200,250,300,400,500,600,800,1000,1200,1600,2000,2500

350

105

200,250,300,400,500,600,800,1000,1200,1600,2000,2500,3000

400

135

250,300,400,500,600,800,1000,1200,1600,2000,2500,3000,4000

450

175

300,400,500,600,800,1000,1200,1600,2000,2500,3000,4000,5000

500

215

400,500,600,800,1000,1200,1600,2000,2500,3000,4000,5000,6000

600

305

600,800,1000,1200,1600,2000,2500,3000,4000,5000,6000,10000

700

415

800,1000,1200,1600,2000,2500,3000,4000,5000,6000,10000,12000

800

545

1000,1200,1600,2000,2500,3000,4000,5000,6000,10000,12000,16000

900

690

1200,1600,2000,2500,3000,4000,5000,6000,8000,10000,12000,16000

1000

850

1600,2000,2500,3000,4000,5000,6000,10000,12000,16000,20000

MT-KF700 External Dimension For Integration And Partial Installation
DN(a)mm

Working

pressure (Bar)

L

D

K

n-¢A

Integration

Weight(kg)

Partial Installation

Weight(kg)

10




150

90

60

4-¢14

6

4

15




150

95

65

4-¢14

6

4

20




150

105

75

4-¢14

6

4

25

32

40

150

150

115

140

85

100

4-¢14

4-¢18

7

9

5

7

40




150

150

110

4-¢18

10

8

50




200

165

125

4-¢18

12

10

65




200

185

145

8-¢18

17

15

80




200

200

160

8-¢18

17

15

100




250

220

180

8-¢18

22

20

125

16

250

250

210

8-¢18

24

22

150




300

285

240

8-¢022

35

33

200




350

340

295

8-¢22

45

43

250




400

395

350

12-¢22

84

82

300




500

445

400

12-¢22

102

100

350




500

505

460

16-¢22

123

121

400




600

565

551

16-¢26

147

145

450

10

600

615

565

20-¢26

212

210

500




600

670

620

20-¢26

229

207

600




600

780

725

20-¢30

252

250

700




700

895

840

24-¢30

352

350

800




800

1015

950

24-¢33

462

460

900




900

1115

1050

28-¢33




550

1000

6

1000

1235

1160

28-¢36




680

Sensor Type
Flow Display Interface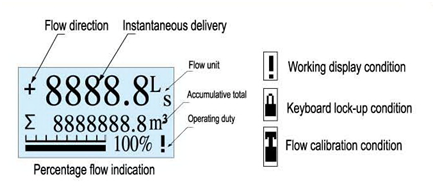 Ordering