产品中心
 

Water Filling Machine Line

Barreled Water Filling Line

Martin TXG series barreled water filling line is mainly used to produce bottled water with volume from 3 gallon to 5 gallon each bottle. The production capacity varies from 100 to 2000 B/H.

Martin TXG series barrel filling machine is a 3-in-1 unit water filling machinery for manufacturing drinking water as pure water, mineral water and others. The machine adopts many new technologies, systems are featured with the pneumatic drive, fully enclosed pressure filling method, and liquid surface detection.
Main Features:
● The TXG barrel filling machine integrates rinsing, filling and capping into one unit with mono-block designs.
● The adoption of highly qualified stainless steel makes the barrel water filling machine easy to clean and with highly corrosion resistance.
● The system is featured with alkali liquid rinsing, disinfectant liquid cleaning and pure water cleaning for a better cleaning effect.
● Advanced technologes are adopted for The inner and outer nozzles of the rinsing barrel

● The system is designed and made as a compact structure, high efficiency, stable performance with a high automation control.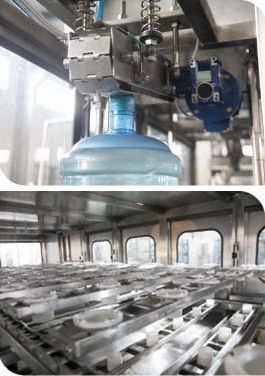 Model

TXG-100

TXG-150

TXG-300

TXG-450

TXG-600

TXG-900

TXG-1200

TXG-1500

TXG-2000

Capacity (5gallon/barrel)

100BPH

150BPH

300BPH

450BPH

600BPH

900BPH

1200BPH

1500BPH

2000BPH

Working Position

3

5

7

9

11

13

15

17

21

Filling heads

1

1

2

3

4

8

10

12

15

Capping heads

1

1

1

1

1

1

1

1

1

Suitable bottle

PET,PP, PC bottle

Bottle Size

Φ265-273mm

Height of bottle

150-360mm

Suitable cap

Plastic thread cap

Weight

450Kg

500 Kg

2500 Kg

3000 Kg

3500 Kg

7000 Kg

8000Kg

8500Kg

9500kg

Main motor power

1.41Kw

1.5 Kw

6 Kw

30 Kw

32 Kw

35 Kw

40 Kw

45 Kw

52Kw