产品中心
 

Filter Cartridges

String Wound Filter Cartridges

Martin string wound filter cartridges are structured loose outer layers and tight inner layers which can offer true depth filtration for high dirt holding capacity and extremely low media migration to ensure temperature and chemical compatibility. The main advantage of the string wound filter cartridge is its exceptionally high structural strength, therefore, they can withstand severe operating conditions.
FEATURES:
l Fits all the standard housings
l Low pressure drop, high dirt holding capacity and long service life
l Loose outer layers and tight inner layers offers effective depth filtration
l Various filter media fit with various applications
APPLICATIONS:
l Food & Beverage
l Semiconductor
l Pharmaceuticals
SPECIFICATIONS:
l Filter media: polypropylene, cotton, glass fiber
l Outside diameter: 55mm,61mm,63mm,65mm,115mm
l Inner diameter: 28mm, 30mm
l Length: 5", 10", 20" ,30" ,40"
l Micron Rating: lmicron,5micron,10miron,20micron,30micron,50micron,75micron,100micron
l Polypropylene material for non-organic solvent, maximum recommended operating temperature <=60°C
l Bleached cotton material filter cartridge with stainless core apply to organic solvent, water, oil, alkalinity
l Solvent, beverage, pharmaceuticals, and maximum recommended operating temperature: 120°C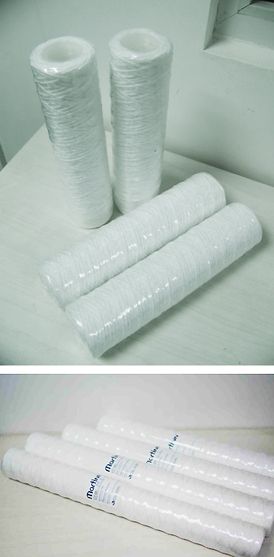 Product Code

Micron Rating

LENGTH

NO.CASE

MATERIAL

CORE

Carton Size

ShipWeight

STF-1001

1

9-7/8"

50

PP

PP

52x32x31 = 0. 052m3

9.5kg

10"

cotton

304sus

52x32x31=0.052m3

9.5kg

STF-1005

5

9-7/8"

50

PP

PP

52x32x31=0. 052m3

9.5kg

10"

cotton

304sus

52x32x31 = 0. 052m3

9.5kg

STF-1010

10

9-7/8"

50

PP

PP

52x32x31 = 0. 052m3

9.5ks

10"

cotton

304sus

52x32x31 = 0. 052m3

9.5kg

STF-1020

20

9-7/8"

50

PP

PP

52x32x31=0. 052m3

9.5kg

10"

cotton

304sus

52x32x31=0. 052m3

9.5kg

STF-1050

50

9-7/8"

50

PP

PP

52x32x31 = 0. 052m3

9.5kg

10"

cotton

304sus

52x32x31 = 0. 052m3

9.5kg

STF-10100

100

9-7/8"

50

PP

PP

52x32x31 = 0. 052m3

9.5kg

10"

cotton

304sus

52x32x31 = 0. 052m3

9.5kg

STF-2001

1

19-1/2"

25

PP

PP

52x32x31 = 0. 052m3

9.5kg

20"

cotton

304sus

52x32x31 = 0. 052m3

9.5kg

STF-2005

5

19-1/2"

25

PP

PP

52x32x31 = 0. 052m3

9.5kg

20"

cotton

304sus

52x32x31=0. 052m3

9.5kg

STF-2010

10

19-1/2"

25

PP

PP

52x32x31=0. 052m3

9.5kg

20"

cotton

304sus

52x32x31=0. 052m3

9.5kg

STF-2020

20

19-1/2"

25

PP

PP

52x32x31=0. 052m3

9.5kg

20"

cotton

304sus

52x32x31=0. 052m3

9.5kg

STF-2050

50

19-1/2"

25

PP

PP

52x32x31=0. 052m3

9.5kg

20"

cotton

304sus

52x32x31=0. 052m3

9.5kg

STF-20100

100

19-1/2"

25

PP

PP

52x32x31=0. 052m3

9.5kg

20"

cotton

304sus

52x32x31=0. 052m3

9.5kg

STF-3001

1

30"

25

PP

PP

78x33x34=0. 088m3

15kg

cotton

304sus

78x33x34=0. 088m3

15kg

STF-3005

5

30"

25

PP

PP

78x33x34=0. 088m3

15kg

cotton

304sus

78x33x34=0. 088m3

15kg

STF-3010

10

30"

25

PP

PP

78x33x34=0. 088m3

15kg

cotton

304sus

78x33x34=0. 088m3

15kg

STF-3020

20

30"

25

PP

PP

78x33x34=0. 088m3

15kg

cotton

304sus

78x33x34=0. 088m3

15kg

STF-3050

50

30"

25

PP

PP

78x33x34=0. 088m3

15kg

cotton

304sus

78x33x34=0. 088m3

15kg

STF-30100

100

30"

25

PP

PP

78x33x34=0. 088m3

15kg

cotton

304sus

78x33x34=0. 088m3

15kg

STF-4001

1

40"

25

PP

PP

103x33x34=0. 12m3

20kg

cotton

304sus

103x33x34=0. 12m3

20kg

STF-4005

5

40"

25

PP

PP

103x33x34=0. 12m3

20kg

cotton

304sus

103x33x34=0. 12m'

20kg

STF-4010

10

40"

25

PP

PP

103x33x34=0. 12m3

20kg

cotton

304sus

103x33x34=0. 12m3

20kg

STF-4020

20

40"

25

PP

PP

103x33x34=0. 12m3

20kg

cotton

304sus

103x33x34=0. 12m

20kg

STF-4050

50

40"

25

PP

PP

103x33x34=0. 12m3

20kg

cotton

304sus

103x33x34=0. 12m3

20kg

STF-40100

100

40"

25

PP

PP

103x33x34=0. 12m3

20kg

cotton

304sus

103x33x34=0. 12m3

20kg

MTSWBB-10-5

5

10"

18

PP

PP

39x39x53=0. 08m3

19kg

MTSWBB-10-10

10

10"

18

PP

PP

39x39x53=0. 08m3

19kg

MTSWBB-20-5

5

20"

9

PP

PP

39x39x53 = 0. 08m3

19kg

MTSWBB-20-10

10

20"

9

PP

PP

39x39x53=0. 08m3

19kg