产品中心
 

Central Water Filtration Systems

Home UF Filtration System

Martin Skid Water Filtration System uses superior, patented technology to provide healthier and cleaner water throughout your entire home. This system filters out contaminants, sediment that can adversely affect the taste, odor and appearance of your home's water.
Features
l Designed with a SS304 skid
l Pre-filter with manual flushing prevent UF membranes from blocking.
l Double UF membranes featured with SS304 seamless housing
l Water proof electronic ball valves guarantee electricity safely in working environment.
l UF controller enables the system with automatic operation
l Timing setup functions available: flushing, backwashing and free-maintenance
l Cross-flow filtration technology, eliminate pollution.
l Easy installation and low maintenance, Long life and great performance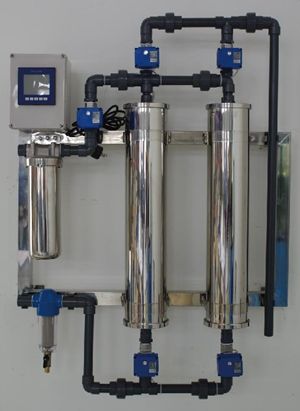 | | | | | | | |
| --- | --- | --- | --- | --- | --- | --- |
| Product Code | Flux (0.1MPa,25℃) | UF.Membeane | Mem. Quantity | Connection | Net Weight(kg) | Dimension (mm) |
| MT-UF-1 | 1T/H | MTUF-4021-ED | 2 | 3/4" or 1" | 10 | 500X120X700 |
| MT-UF-2 | 2T/H | MTUF-4040-ED | 2 | 3/4" or 1" | 18 | 500X120X1200 |