产品中心
 

Filter Cartridges

Activated Carbon Filter Cartridge


Martin sintered/extruded carbon block filter cartridges (CTO) use high-density activated carbon and exclusive inert adhesives as main materials of construction. The large granular surface area has a tremendous capacity to remove chlorine, unpleasant odors, colors as well as spores and microorganisms. Martin unique manufacturing techniques and material of the highest quality guarantee excellent durability, minimal pressure loss and high filtration rate.

CTO filter element is made of coconut shell GAC which has a better filtration effect upon chemicals.
FEATURES
l Reduce chlorine, bad taste and odors
l No release of carbon fines
l Low pressure drop
SPECIFIACATIONS:

l Filter media: Acid washed bituminous GAC & water washed coconut shell GAC
l Outside diameter: 70mm, 115mm
l Inner diameter: 28mm
l Length: 5", 9-7/8", 20", 30", 40"
l End cap: PP
l Gasket: PVC
l Netting: polyethylene
l Micron Rating: 1 micron, 5 micron, 10 micron
l Maximum pressure: 40PSID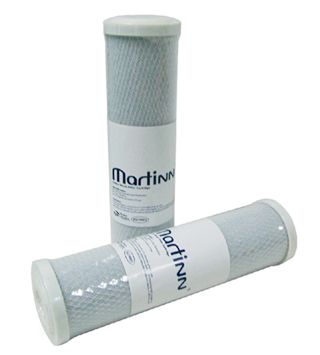 | | | | | | |
| --- | --- | --- | --- | --- | --- |
| Product Code | Micron Rating | LENGTH | CASE | Dimension(CM) | Ship Weight |
| CTO-1001-CNT | 1 | 9-7/8" | 25 | 38x38x27 | 10kgs |
| CTO-1005-CNT | 5 | 9-7/8" | 25 | 38x38x27 | 10kgs |
| CTO-1010-CNT | 10 | 9-7/8" | 25 | 38x38x27 | 10kgs |
| CTO-2001-CNT | 1 | 20" | 20 | 38x25x53 | 16kgs |
| CTO-2005-CNT | 5 | 20" | 20 | 38x25x53 | 16kgs |
| CTO-2010-CNT | 10 | 20" | 20 | 38x25x53 | 16kgs |
| Big Blue | | | | | |
| CTO-BB-1001-CNT | 1 | 9-7/8" | 12 | 40X27X54 | 24kgs |
| CTO-BB-1005-CNT | 5 | 9-7/8" | 12 | 40X27X54 | 24kgs |
| CTO-BB-1010-CNT | 10 | 9-7/8" | 12 | 40X27X54 | 24kgs |
| CTO-BB-2001-CNT | 1 | 20" | 6 | 40X27X54 | 24kgs |
| CTO-BB-2005-CNT | 5 | 20" | 6 | 40X27X54 | 24kgs |
| CTO-BB-2010-CNT | 10 | 20" | 6 | 40X27X54 | 24kgs |