产品中心
 

Multi-cartridges Filter Housings
Martin HF filter systems are widely used in the sewage and wastewater application, desalination, electronics and other industries. The PF filter system is featured with high flow, long service life and good operation of complex liquid. The filter system consists of the housing and the cartridge.
l UPVC material has good corrosion resistant.
l The flow is more than other cartridges.
l Longer service life, more than 3 times than others.
l Handle design makes the cartridge replacement become easier.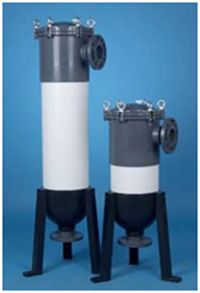 Model No

Material

Size

Cartridge L1

Housing L2

Inlet/outlet

Flow Rate

Max Pressure

MT-HF-20

UPVC

Ø225*H1006

628mm +/- 2

863mm

FLG DN50/ ANSI 2"

25M³/H

0.7Mpa/ 100psi

MT-HF-40

UPVC

Ø225*H1506

1018mm +/- 2

1363mm

50M³/H
INSTALLATION:
l Install the pressure gauge into the threaded port on the filter lid.
l Unscrew the lid lock ring, install 5 pieces cartridge elements. Do not over tight the lock ring.
l Place the filter into the required position.
l Ensure that it is on a flat level surface and is aligned with the pump.
l Ensure that the pipe extending from the pump outlet is connected to the filter marked inlet.
l Screw the supplied half barrel unions and tails onto the inlet and outlet before gluing the UPVC pipe onto the filter. Cut and fit the pipe and fittings onto the filter and the pump.
l Glue the pipe and fitting onto the pump, filter and allow the glue to set for 24 hours before commissioning the system.
START UP PROCEDURE:
l Ensure that all valves installed before or after the filter are open.
l Ensure that the filter is plumbed correctly. Pipe from pump outlet must be attached to the filter inlet port.
l Loose the air bleed screw on the top of the filter lid.
l Turn on the pump and allow the pump to run until all the air has been expelled from the filter tank. Water will run from the bleed screw.
l Tighten the air bleed screw.
l The filter is primed and ready for operate.
l Do not stand over the lid whilst adjusting the air bleed to purge the system of air. Injury may occur if air bleed valve comes loose.
CLEANING AND CHANGE:
l Release air from the tank using the air screw.
l Unscrew the filter's lock ring.
l Remove the cartridge elements from filter tank.
l Clean the element's surface.
l Place the cartridge elements into the filter tank and ensure that are seated correctly.
l Place the lid onto the tank and screw and screw the lock ring down. Don't over tighten the lid lock ring.
l The cleaning time depending upon the water's condition.