产品中心
 

Filter Cartridges

Membrane Pleated Filter Cartridge

Martin Polypropylene Pleated Filter Cartridge High Precision is constructed of micro polypropylene media and nonwoven or silk net support. Adaptors are thermal welded with cartridges without using any glue on it, so there will be no any possibilities to cause the second pollution.
FEATURES:
l High surface area design provides superior flow rate and high dirt holding capacity
l Low pressure drop & long service life
l Using 100% virgin polypropylene media with extensively applications
l Wide micron rating range.
APPLICATIONAS:
l Food & Beverage, Semiconductor & Pharmaceutics
l Solvents, Acid and ink Pre-Filtration for RO & Bottled Water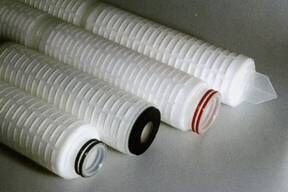 SPECIFICATIONS:

Filter Media & Support Material: Polypropylene
Outside Diameter: 70mm; Inner Diameter: 28mm; Length: 10", 20" ,30" ,40"
Micron Rating: 0.1 u m, 0.22 u m, 0.45 u m, 1 u m, 3 u m, 5 u m, 10um, 20um, 50um
Filtration Area: 0.5-0.7m2/ 10 "
End caps: DOE,-222 Flat,-222Fin,-226Flat,-222Fin and other special size
Operating temperature: 80°C , 0.lMpa; Operation Pressure: 0.3Mpa, 50°C Back
Pressure Difference: 0.28Mpa, 25°C
Seals: EPDM, EPR, Silicone, Viton and Teflo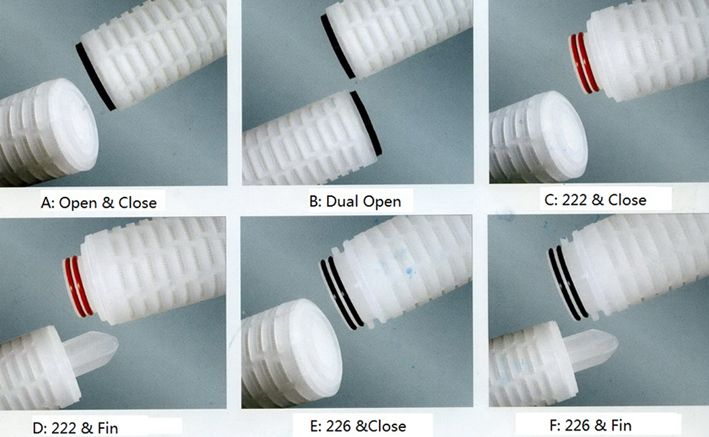 | | | | | |
| --- | --- | --- | --- | --- |
| Product Code | Micron Rating | LENGTH | NO. CASE | End Cap |
| MTMPP-0010-10 | 0.1 | 10" | 40 | DOE,-222Flat,-222Fin,-226Flat,-226Fin and other special sizes |
| MTMPP-0022-10 | 0.22 | 10" | 40 | DOE,-222Flat,-222Fin,-226Flat,-226Fin and other special sizes |
| MTMPP-0045-10 | 0.45 | 10" | 40 | DOE,-222Flat,-222Fin,-226Flat,-226Fin and other special sizes |
| MTMPP-01-10 | 1 | 10" | 40 | DOE,-222Flat,-222Fin,-226Flat,-226Fin and other special sizes |
| MTMPP-05-10 | 5 | 10" | 40 | DOE,-222Flat,-222Fin,-226Flat,-226Fin and other special sizes |
| MTMPP-10-10 | 10 | 10" | 40 | DOE,-222Flat,-222Fin,-226Flat,-226Fin and other special sizes |
| MTMPP-20-10 | 20 | 10" | 40 | DOE,-222Flat,-222Fin,-226Flat,-226Fin and other special sizes |
| MTMPP-50-10 | 50 | 10" | 40 | DOE,-222Flat,-222Fin,-226Flat,-226Fin and other special sizes |
| MTMPP-0010-20 | 0.1 | 20" | 20 | DOE,-222Flat,-222Fin,-226Flat,-226Fin and other special sizes |
| MTMPP-0022-20 | 0.22 | 20" | 20 | DOE,-222Flat,-222Fin,-226Flat,-226Fin and other special sizes |
| MTMPP-0045-200 | 0.45 | 20" | 20 | DOE,-222Flat,-222Fin,-226Flat,-226Fin and other special sizes |
| MTMPP-01-20 | 1 | 20" | 20 | DOE,-222Flat,-222Fin,-226Flat,-226Fin and other special sizes |
| MTMPP-05-20 | 5 | 20" | 20 | DOE,-222Flat,-222Fin,-226Flat,-226Fin and other special sizes |
| MTMPP-10-20 | 10 | 20" | 20 | DOE,-222Flat,-222Fin,-226Flat,-226Fin and other special sizes |
| MTMPP-20-20 | 20 | 20" | 20 | DOE,-222Flat,-222Fin,-226Flat,-226Fin and other special sizes |
| MTMPP-50-20 | 50 | 20" | 20 | DOE,-222Flat,-222Fin,-226Flat,-226Fin and other special sizes |
| MTMPP-0010-30 | 0.1 | 30" | 15 | DOE,-222Flat,-222Fin,-226Flat,-226Fin and other special sizes |
| MTMPP-0022-30 | 0.22 | 30" | 15 | DOE,-222Flat,-222Fin,-226Flat,-226Fin and other special sizes |
| MTMPP-0045-30 | 0.45 | 30" | 15 | DOE,-222Flat,-222Fin,-226Flat,-226Fin and other special sizes |
| MTMPP-01-30 | 1 | 30" | 15 | DOE,-222Flat,-222Fin,-226Flat,-226Fin and other special sizes |
| MTMPP-05-30 | 5 | 30" | 15 | DOE,-222Flat,-222Fin,-226Flat,-226Fin and other special sizes |
| MTMPP-10-30 | 10 | 30" | 15 | DOE,-222Flat,-222Fin,-226Flat,-226Fin and other special sizes |
| MTMPP-20-30 | 20 | 30" | 15 | DOE,-222Flat,-222Fin,-226Flat,-226Fin and other special sizes |
| MTMPP-50-30 | 50 | 30" | 15 | DOE,-222Flat,-222Fin,-226Flat,-226Fin and other special sizes |
| MTMPP-0010-40 | 0.1 | 40" | 15 | DOE,-222Flat,-222Fin,-226Flat,-226Fin and other special sizes |
| MTMPP-0022-40 | 0.22 | 40" | 15 | DOE,-222Flat,-222Fin,-226Flat,-226Fin and other special sizes |
| MTMPP-0045-40 | 0.45 | 40" | 15 | DOE,-222Flat,-222Fin,-226Flat,-226Fin and other special sizes |
| MTMPP-01-40 | 1 | 40" | 15 | DOE,-222Flat,-222Fin,-226Flat,-226Fin and other special sizes |
| MTMPP-05-40 | 5 | 40" | 15 | DOE,-222Flat,-222Fin,-226Flat,-226Fin and other special sizes |
| MTMPP-10-40 | 10 | 40" | 15 | DOE,-222Flat,-222Fin,-226Flat,-226Fin and other special sizes |
| MTMPP-20-40 | 20 | 40" | 15 | DOE,-222Flat,-222Fin,-226Flat,-226Fin and other special sizes |
| MTMPP-50-40 | 50 | 40" | 15 | DOE,-222Flat,-222Fin,-226Flat,-226Fin and other special sizes |