产品中心
 

CEDI Systems

CEDI System

The performance of CEDI at the various sites has been excellent. CEDI continues to produce consistently high purity water over time. Additionally, the rejection performance of conductivity and specific ions is exceptionally high, predictable and stable over time. The CEDI units are also able to consistently and predictably remove weakly ionized species such as carbon dioxide and silica. This ability to consistently and predictably remove dissolved ionic species as well as weakly ionized species, without the need for chemical addition into the feed stream, sets CEDI apart from other large scale commercial membrane processes.

The water quality that is produced by CEDI, especially in combination with RO, is exceptional. The level of purity achieved is generally at or near the standard definition of high purity water. When CEDI is compared to conventional ion-exchange systems, the advantages are very strong: CEDI obviates the need for on-site storage, use and ultimate disposal of large quantities of acid and caustic regenerating chemicals, eliminating associated safety, regulatory and environmental concerns; CEDI by operating in a continuous mode is inherently more stable and less prone to upsets caused by batch operations.



Features:
l Reliable, compact design.
l Elimination of possible regenerate contamination.
l Chemical free. Non CL2 producing at anode.
l The concentrate can be recycled.
l No concentrate circulation pump.
l Lower operating cost --- no salt consumption; lower electrical consumption.
l Easy installation; easy design and maintenance.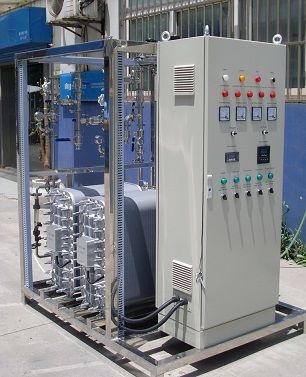 SYSTEM SPECIFICATIONS
Product code

MTC05M01

MTC10M01

MTC20M01

MTC30M01

MTC30M02

MTC30M03

MTC30M04

Number of Models

1

1

1

1

2

3

4

Min Flow (m³/hr)

0.3

0.8

1.5

2.5

5

7.5

10

Nom Flow (m³/hr)

0.5

1.13

2

3.5

6.5

9.5

12.5

Max Flow (m³/hr)

0.75

1.5

2.5

4.5

9

13.5

18

Typical recovery

90~95%

90~95%

90~95%

90~95%

90~95%

90~95%

90~95%

Inlet

1"

1"

1"

1"

1"

2"

2"

Outlet

1"

1"

1"

1"

1"

2"

2"

Drain

1/2"

1/2"

1/2"

1/2"

1/2"

1"

1"

Inlet Max. Pre.(psi)

100

Max Pre. Drop(psi)

23~35

Max. Temperature

<45℃

Voltage

220/240/380VAC.50/60HZ

380/480/575VAC,50/60HZ

Amperage

20

20

30

20

20

30

40

L×D×H (cm)

100×120×181

100×165×181

Ship Weight(kg)

100

120

150

250

400

550

600
Note: All weights and dimensions are approximate. Other custom designs are available upon request